Call Now! 705-888-2765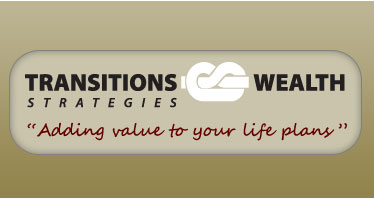 - Individuals/Families > Life's Transitions
Life's Transitions
While Transitions Wealth Strategies develops wealth strategies focused on each transitionary stage in life, we do so in the context of an overriding whole life plan so that the families we work with will secure their desired lifestyles and legacies through all phases of Life.
This is our firm belief. Implementing a strategy must not only complement the immediate need but must also complement each of our client's long term goals. Our plans and strategies will not only address today's priorities but will also take you where you want to go and we'll walk with you every step of the way.
Comprehensive Financial Plan
Prosperity involves much more than just making money. Prosperity is all about creating a life that provides peace of mind along with the lifestyle you desire. At Transitions Wealth Strategies, we understand this as every Plan we develop is unique, very personal and developed specifically to allow you to meet your desired goals in life while lessening the uncertainties (PDF1).
More Info..
Cash and Debt Management
Tax Planning
Individual Risk Management/Insurance Planning
Investment Planning
Investment planning is a necessary part of everyone's life. Government programs, like CPP and OAS, and employer pension plans will provide limited support as you transition through retirement and beyond, but generally everyone must plan to supplement this support with investment savings personally accumulated through one's life.
More Info..
Retirement Planning
Estate Planning
Charitable Giving
Contact Transitions Wealth

For more information please contact us 705.888.2765